Asus Eee Pad Transformer, First Impressions
My new job give me the great opportunity to try some new devices and evaluate them for educational purposes.  I'm taking a look at the new Asus Eee Pad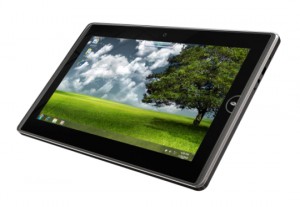 Transformer.  I'm going to evaluate based on a couple of criteria: Usability, OS, Performance, Apps and probably some other thoughts here and there.  This is the first Android tablet that I'm looking at.  I'm sure I'll be making some comparisons with the iPad, since that is the only other tablet I've used at this point.
Usability: The device has a 10.1″ LED Backlight WXGA (1280×800) Screen. The screen is slightly different dimension than the iPad with is 9.7″ diagonal. It also has a 1.2 M Pixel Front Camera and 5 M Pixel Rear Camera which actually seems slightly better than the iPad 2 cameras. My iPhone has a 5 Megapixel camera. It weights 680 g, or 1.5 lbs, which is only slightly heavier than the iPad at 1.33 lbs. I do like the feel of the device and it's slightly-wider-than-normal form factor.  Especially nice for watching movies. The Transformer has an NVIDIA® Tegra™ 2 processor and 1GB of memory with 16GB of built in storage.  I can easily add a micro sd card in the slot, which is great if I want to bring some other files with me on the go.
Android: I like the speed and feel of android 3.2,  The device automatically downloaded and asked to install an update that required a restart in the first 2 hours of use.  I'm ok with that.  The restart took just under 3 minutes. After about 4 hours of use, the device only seemed to hang once for about 20 seconds.  There are some built in features that I like involving security and accessibility. Android seems not quite as intuitive as iOS, but of course, I am far more accustomed to that interface. Marketplace and Apps If you are using google apps, like many of the school districts that I work with are, android has many integrated features. gmail, and docs are wonderfully integrated and it's quite easy to sync a google account.  The android marketplace has no restrictions, like the apple app store does.  While great for developers, this is going to make it almost impossible for android tablets to bust into the public school market.
I just wanted to mention the voice recognition.  It's built into android and can be used as an input device in any app.  Fantastic! Too bad there is no undo. that's right android has no undo feature
I tried to install some basics, Skype, Google Docs, WordPress, and then tried some others:
Dolphin – great web browser with tons of features
Soundcloud – great interface for the site.  I enjoy it more than the iPad version
MX video player – multitool media player.  I needed to install a codec…interesting
hackers keyboard
uLoops
Making Music – I love experimenting with music and there are some incredible tools for the iPad.  I found the options extremely limiting…  Except for uLoops.  This is a fantastic app that i wish worked on the iPad.
Asus extras:
MyCloud Unlimited ASUS Webstorage for a one year trial.